Nowadays, wearing polarized sunglasses has become essential for boaters and fishermen, as well as many other outdoor sports enthusiasts. Water-sport athletes, cyclists, joggers, and golfers – they all can truly benefit from having polarized lenses in their sunglasses. As an avid fisher in sunny south Florida, I know how important good sunglasses are.
As you may know, polarized lenses have a film coat that helps neutralize glare, which can be caused by the reflection of the sun's light off of water, snow or solid surfaces. This helps us see things more clearly, relieves eye strain and helps protect them from the harmful effects of UV light as well as preventing temporary blindness caused by glare.
While regular sunglasses only minimize the light that gets through the lens horizontally and vertically, the chemical filter on polarized lenses eliminates glare by allowing light to travel in only one direction, absorbing horizontal light waves and allowing only vertical waves to pass through.
You can learn more about polarized lenses in this article.
But in this article, we are going to talk about another topic.
Pay attention – you don't want to miss this.
The best 7 fishing sunglasses with polarized lenses
Here at Sunglasses Restorer, we don't sell sunglasses, but we know how important it is to wear the appropriate ones for every activity you practice. That's why we've done the research and found the 7 best sunglasses for fishing, to help you make the right choice when you need to buy a pair for that sunny (or cloudy) fishing day.
So, here are some of the best fishing sunglasses you'll want to check out if you're planning to go for a fishing trip soon, whether off the dock or on the open sea.
Let's get started!
Fortis Wraps Fishing Sunglasses with Switch Technology
In addition to quality sunglasses that protect your eyes from harmful ultra-violet (UV) rays, we all want a good pair of sunglasses that allows us to easily spot fish under the water no matter what time of day it is. Personally, I love this pair because whether I'm fishing in the bright afternoon sun or at dawn, the Switch Technology in these sunglasses will adjust the light filtration level to allow me to see perfectly. This is simply the brand's name for their photochromatic lens.
These glasses have a perfect, close fit with side lenses for complete eye protection while fishing. And for the quality, you simply can't beat the price!
You can get your own pair of these excellent and affordable sunglasses from Angling Direct.
Want more? This is only the beginning.
Costa Fantail Polarized Sunglasses
These are incredibly stylish yet effective unisex sport fishing sunglasses. Their 100% polarized lenses prevent glare, improve vision, and have unique color technology as well. The frame is made of nylon to fit snugly on any sized head with durable stainless steel hinges.
These sunglasses are lightweight and resilient. The Green Mirror polarized glass lenses block yellow light while boosting red, green, and blue lights, which is a technique that improves contrast and definition. Blue Mirror is another option that we would recommend for very reflective open water fishing.
For more information on these Costa Fantail Polarized Sunglasses or to purchase some, visit their website.
Let's see some more!
Flying Fisherman Boca Grande Polarized Sunglasses
These sunglasses are designed carefully to provide the best vision even in the toughest environments. An ophthalmic glass is used for the lenses, which are treated to provide many more benefits. These treatments include primarily AcuTint polarization, which eliminates glare and reflections and sharpens images. The colored lenses filter out certain colors and harmful UV rays. The lenses are strong with a hard coat finish, not to mention very stylish with their mirror coat.
You can learn more about the Boca Grande fishing sunglasses from Flying Fisherman in their website.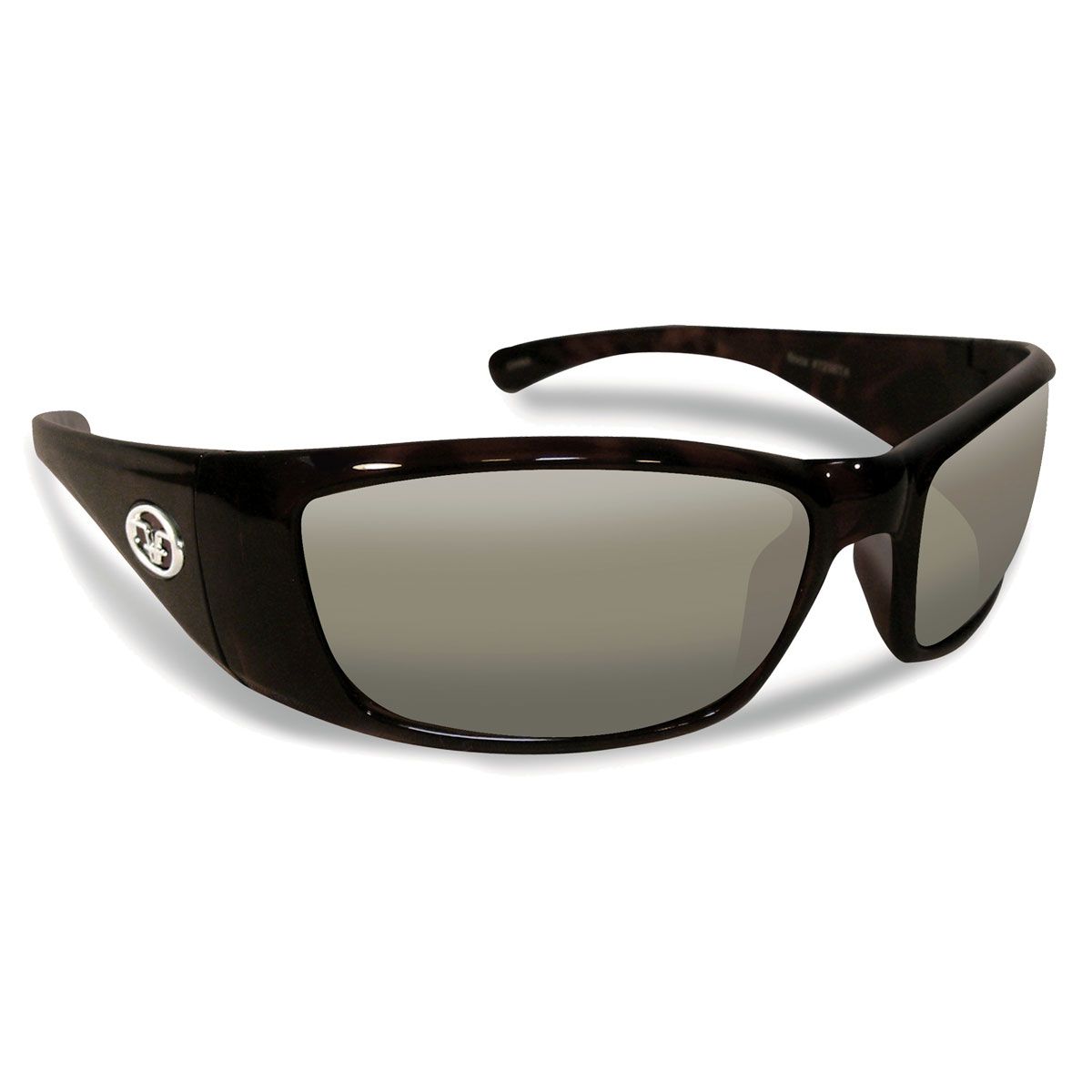 Want more? We got more.
Dockside Sunglass from Smith Optics
These are high-quality sunglasses, a great option for fishing or everyday wear, depending on the lens color you choose. Stylish, durable and effective sunglasses for fishing.
Using polarized lenses made from strengthened glass with their proprietary ChromaPop Technology, in my personal opinion, these sunglasses have all the best features in a sleek, comfortable design. Aside from being lightweight and scratch-resistant, these Smith Optics lenses are both water- and oil-resistant. The unique frame covers a large part of your face, and the lenses cover more of your eyes with the largest ChromaPop lenses you can find. Stainless steel components resist corrosion, even if exposed to the salty air of the ocean.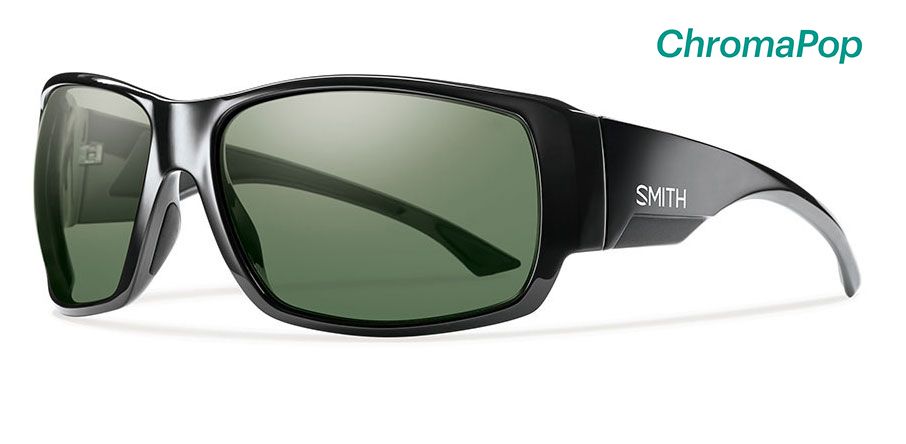 Suncloud Warrant Polarized Sunglasses
Now, these might be on the lower end of the price spectrum, but they definitely do not skimp on protection and quality features. Their large polarized lenses, which fully cover the eyes with minimal light leakage, are made from polycarbonate, to stay lightweight but durable enough for many years of fishing trips.
They have a curved frame made from nylon, designed to fit comfortably on larger sized heads. These sunglasses are a great option for guys on a budget who still want a good quality product. Best of all, these come with a lifetime warranty. If they are damaged, Suncloud will replace them for free.
You can snag a pair of these stylish glasses from AvidMax.
Keep reading – we've saved the best for last!
Costa Coba Polarized Sunglasses
This is kind of a unique choice in terms of appearance using an interesting nylon frame with a more comfortable fit, with the lower half of the lens exposed. The large polarized lenses made from polycarbonate ensure eye protection to the max with encapsulated mirrors for a sharp, vivid image. The Coba sunglasses frames are varied in styles to provide a great option for fishing and to fit in a casual environment as well.
See what customers have to say about their Costa Coba sunglasses on Sierra Trading Blog Post.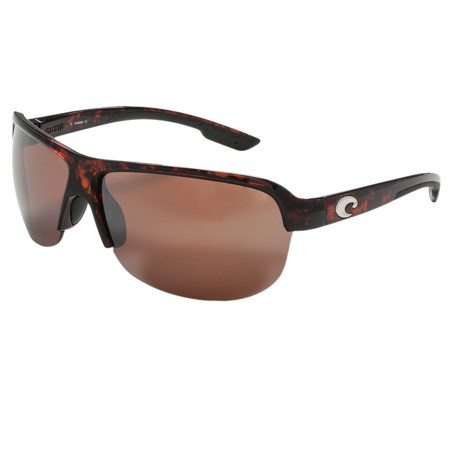 And last but certainly not least, it's time for…
Maui Jim Peahi with HCL Bronze Lenses
There are many reasons that make these sunglasses a great option for fishing. In addition to having Maui Jim's unbeatable PolarizedPlus 2 lenses,  you'll find another element of protection in the wrap around the frame style. As it is made of a highly durable, lightweight and hypoallergenic frame material, it will definitely provide a long-lasting, all-day comfortable fit.
Click here if you want to know more about Maui Jim Peahi fishing sunglasses from REI
And that's all. Are we missing your favourite? Maybe a pair of Oakley sunglasses? If so, leave us a comment below with the sunglasses you think deserve to be on this list.
We hope this was useful information to help you find the best fishing sunglasses in order to improve and fully enjoy your fishing experience while protecting your eyes. We're all about helping you save time and money.
If you enjoyed, please share this article with your friends on social media.
Happy fishing from Sunglasses Restorer!