This post will cover the best ski resorts in Europe, but I'm sure by now you're wondering what this post is doing on a website about sunglasses.
You know that at Sunglasses Restorer we don't just publish things about sunglasses or lenses.
Remember the posts about Women Beach Volleyball or the one about eye diseases caused by the sun? But to quote Game of Thrones, "Winter is coming," so we thought we'd talk about something related to that.
Get ready to discover the 17 best ski resorts in Europe.
In order to hit the slopes, you've got to get the right equipment, your boots, your skis or snowboard and, of course, some ski glasses or other polarized sunglasses to protect yourself from the elements.
Before you start, if you want to get good ski goggles at the best price, stop by our Amazon store and take a look at our Baqueira Ski goggles. Click on the image below:
Now, we start with an emblematic
Zermatt Ski Resort (Switzerland)
This ski resort is located in the Monte Cervino. Zermatt is a place that will surprise you from the first moment you arrive. For example, if you travel in a car that is not electric you will not be able to enter the city (they promote the concept of an ecological city).
We can find tracks with up to a 60% slope, although they are not the most suitable option for beginners (i.e., we should not choose as our first destination).
We will have more than 360km at our disposal, even when skiing in summer on the Matterhorn Glacier Paradise. This place is consolidated as the highest in the whole of Europe when the summer arrives, with its near 4,000 meters in height.
However, this tourist destination is very elitist as we can see from the prices.
In any case, it is considered to be one of the best.
Now we'll move on to France…
Val 'Isère Ski Resort (France)
If you visit this ski slope, you will surely come back because its views are incredible. We have more than 300km to ski trails, so there are several hours of fun ahead of you.
This ski slope also hosted the 1992 Olympic Games and the 2009 World Championships.
In the same way as the previous season, in this one, we can also ski in the summer between the glaciers that surround the mountain (La Grande Motte and Pissaillas). The two glaciers are above 3,000 meters.
In addition, we will be able to enjoy the many activities the town has to offer: in it, we will find a vibrant nightlife, in addition to the popular bar Dicks, a very famous place.
The entire track is surrounded by mountains that measure over 4,000 meters.
Saas Fee
The Saas Fee ski resort is known as "The Pearl of the Alps," located at the foot of the Sun (a mountain at 4,545m).
It has 100km of tracks; 8 out of 10 are made up of red and black tracks, suitable for experts. We can even get out of the usual tracks without taking too many risks (although it is only recommended for the professionals).
The Saas Fee resort is even designed for people who do not ski and who go as a companion. Here we find the highest revolving restaurant in the world, located at an altitude of 3,500 meters.
There is also a large ice cave, a 900m roller coaster, and an underground funicular railway.
There's no way to get bored in this place!
We change the country again
Ski resort Serfaus-Fiss-Ladis (Austria)
It is considered the best ski resort in Europe. This is the result of a study carried out by the Mountain Management Study, in which 4,000 amateurs took part. It stands out for its impressive views, the quality of its accommodations, as well as the facilities it has to offer to their clients.
It has an extension of tracks that reach 200km, as well as another 120km of tracks for cross-country skiing.
If we are starting out in this sport, the best thing to do is to use the wide courts. If we already have a certain level of knowledge, we will be able to pass the level and go directly to the red and black tracks. These ones are more complex, as they will require a certain amount of skill and concentration on the part of the expert.
To complement the above, the Serfaus-Fiss-Ladis ski resort has special sunbathing areas with beach hammocks and ergonomic chairs. This is where you can bring out one of our lenses and enjoy a moment of relaxation in the sun.
The chairlifts have been integrated with a heating system and even a hood to protect against the most extreme conditions.
In addition, the children will have 150,000 square meters of space to improve their learning environment.
Let´s move back to France.
Chamonix Ski Resort (France)
This resort is located at the foot of the emblematic Mont Blanc. The Chamonix Valley is considered a very special place among ski fans, with a height of 4,810 meters.
You can ski with three different ski passes; Chamonix Le Pass, Domaine de Balme, and Grands Montets. In total, it's 115km long. We even have the option of skiing between the adjoining resorts of Italy and Switzerland to connect the 410km trails of slopes.
It offers trails for all levels, both for amateurs who are just starting out and for those who want to test their skills.
We're moving to Italy
Val Gardena Ski Resort (Italy)
We are now travelling to Italy to meet the Val Gardena ski resort, with 175 kilometers of slopes that can be extended if you connect to the neighboring slopes of Marmolada, Alta Badia, and Val di Fassa.
The most famous and recommended route of this station is the Sella Ronda. It is a circular route that goes up to the mountainous massif of Sella. You can do it in two ways; there is a yellow route that runs clockwise or there is the green route, which is much more complicated.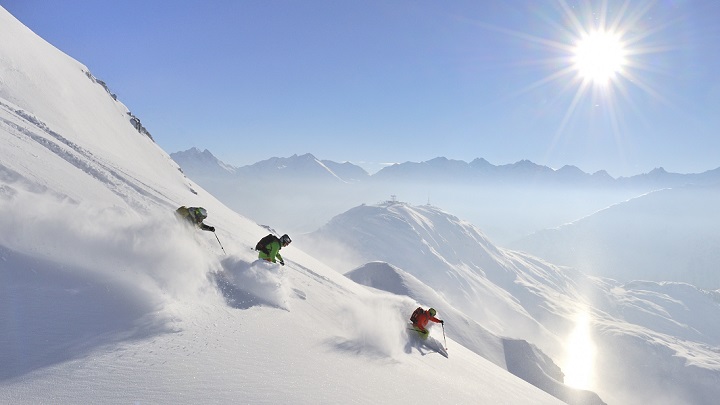 You must know that this resort has even won some important prizes, which makes it one of the most famous tracks in the country.
Here we can also find schools that will educate you in the first steps in the world of skiing or to help perfect your skills.
We return to Austrian lands, and this time the name is a little unpronounceable.
Ischgl Ski Resort (Austria)
It offers you up to 238km of tracks, equipped with modern and very fast lifts, as well as excellent access to the mountain.
One of the main reasons to visit this track is that Ischgl shares a part of the mountain with Switzerland, called Samnaun, and this area has no taxes. You can buy a variety of items at a much cheaper price than anywhere else.
We recommend Track 80, a perfect place to enjoy the Tyrol in all its splendor.
Val-Thorens Ski Resort (France)
This resort is characterized by offering the widest skiable terrain anywhere in the world, with more than 600km of slopes. We have slopes adapted to all levels, as well as activities such as cross-country skiing or snowparks, with which we can reach the Alps and enjoy a much fuller experience.
If we want to enjoy the best views of this place, we have to visit Caron's Summit; from where we will be able to glimpse more than 1,000 summits of all the mountains of the Alps. A selfie in this place will be inevitable.
Of course, we can't leave this place without eating at the Oxalys restaurant. It's one of the best in the area. It even has a Michelin star.
We're going back to one of the cradles of skiing.
Ski Resort of ST. Anton Am Arlberg (Austria)
This is a quality ski resort with 1,500 meters of slopes and some areas that are prepared only to be crossed by experts.
It is usually very busy, so lines can be eternal.
Fortunately, we can always go to the Stuben and Rendl sectors, which are further away from the center where the lines are much smaller.
In addition, in this mountain village, you can find a great variety of bars and restaurants that will open at 5 pm. A complete gastronomic route that will allow you to buy delicious street food (like a sandwich), and where you can enjoy the best beer in the world, which you can find in the Mooser Wirt bar, being the bar that sells more beer throughout Austria.
However, it's only open at one half of the year, so you'll have to try to make our visit coincide with the opening.
We're still in the Alpine zone.
The ski resort of Aletsch-Arena (Switzerland)
This resort has three sectors that comprise a total of 100km of snow. Although it is true that this station is not as famous as Saas Fee or Zermatt, it has a very special place in this ranking.
The slopes are rather designed for skiers who have an intermediate level. If you are trying to improve your skill, this station can help to a certain extent, but when you reach a certain point you will have no choice but to choose any of the previous tracks.
As for the views, they overlook Mont Blanc and Monte Rosa. It has also been declared a World Heritage Site by UNESCO.
This is a place you can enjoy with all of the senses:
We don't move much to find the next one.
Adelboden Ski Resort (Switzerland)
Adelboden is a family-friendly ski resort. That is to say, you will find ski slopes designed for the enjoyment of the whole family, with a whole series of activities that will be adapted to both adults and children.
For example, there are ski parks, sled rinks, ice-skating rinks, even cinemas where you can enjoy the latest releases.
In addition, it is characterized by being a fairly inexpensive station, being a good solution if you have a rather limited budget.
We now travel to Spain
Formigal Ski Resort (Spain)
Formigal is one of the most famous ski resorts in the country, receiving tourists continuously on an annual basis.
Although it is known for its incredible skiing facilities, it is also important to highlight all of the value of the natural space that you will discover.
You will be delighted with that characteristic blanket of snow that surrounds the peaks of the Pyrenees, being quite the spectacle.
Back to beautiful France
Les Deux Alpes (France)
The Les Deux Alpes (known in Spain as Los Dos Alpes) ski resort offers 200km of ski slopes. In addition, you can also do much more varied activities.
But what is undoubtedly its greatest advantage is that the slopes are available 365 days a year (even in the summer). But not all tracks: of the 200km of tracks, only 60km will be operational when temperatures start to rise. In any case, the simple fact of being able to ski in the summer in the Alps is considered a luxury, so this is another place you should definitely consider visiting.
It´s time for the Andorran Pyrenees
Grandvalira Ski Resort (Andorra)
In Grandvalira, there are almost 200km of skiable slopes. This makes it the longest ski slope in the whole of the Pyrenees.
In this place, you can find several various activities, so it is perfect to enjoy with the family, with the couple, or to have a great time with friends.
Snowparks are also available for snowboarding fans.
Andorra has always been an excellent destination for skiing, and resorts such as Grandvalira are considered the best option for doing so.
Now, we will travel down to the southernmost ski resort in Europe…
Sierra Nevada Ski Resort (Spain)
Sierra Nevada is the most popular ski resort in Spain, being an almost mandatory destination for ski tourists who decide to visit the country as soon as the temperatures drop.
Here you can find the perfect balance between snow, culture, and gastronomy that you will only find in Granada. In addition, you can even enjoy the sun on the beaches after you ski.
The slopes are quality, designed for both beginners and professionals. In addition, they are very beautiful, with views that few resorts can achieve.
You can also take advantage of your visit to Granada to enjoy the Alhambra, a UNESCO World Heritage Site.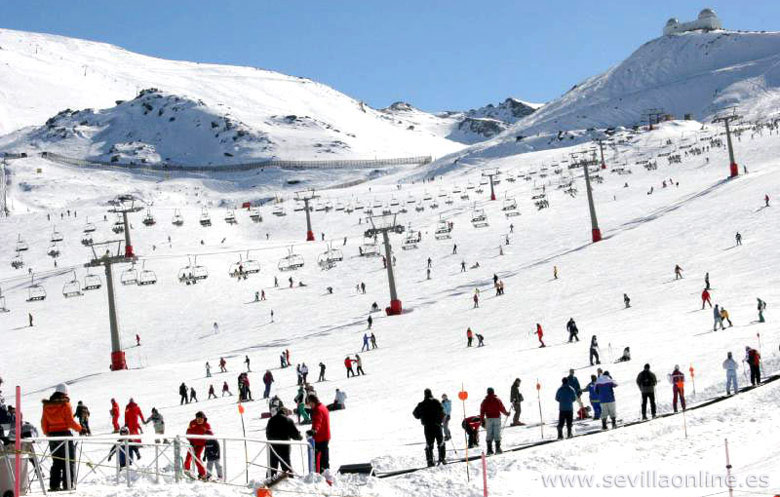 We're still in Spain
Aramón Cerler Ski Resort (Huesca, Spain)
Near the end of this list, we find the ski resort Aramón Cerler, located in the Aragonese Pyrenees. It has 79km of skiable trails, with peaks that exceed 3,000m in altitude.
This was awarded the "Best Ski Resort in Spain" prize by the World Ski Awards. This award measures the quality of the resort's service, in addition to the variety of tourist offerings that the user will find there.
We can combine skiing with a visit to the village of Cerler, where we will enjoy its old town, which will allow us to make a complete journey back in time to the 16th century (since there are still some vestiges of the noble houses of that time).
And now we come to the final resort…
Baqueira Beret (Andorra)
The Baqueira Beret ski resort is a "high standing" resort. Both the Spanish royal family, as well as music and entertainment stars pass through it during the snow season.
Here we can find everything we need for an incredible experience, with 146km of tracks suitable for all levels… The problem? The high cost involved.
It is undoubtedly a paradise located in the Pyrenees, where we can find the best snow blankets of all Europe.
The original resort would be built in the 1960s, at an altitude of 1,500m. However, if you want to enjoy the beauty of the place in all its splendor you can use a ski lift that will take you up to a height of 2,516 meters.
These are the 17 best ski resorts in Europe for the next 2018-19 season.
If there is a resort that you know about that is not on this list, be sure to leave a comment and tell us about it.
Enjoy the great activities and incredible views they offer and remember to wear polarized lenses, whether they are Oakleys, Arnettes or Ray-bans.
If you liked this article, please share it on your social networks.
See you soon!